In the article How do I identify a potential digital currency scam? we explain several kind of scams in detail. In this article, we're going to describe a specific scam on Telegram in more detail as there are currently imposters active on Telegram who pretend to be related to or working for Bitvavo.
Note: Bitvavo does not have an (official) Telegram group nor does it provide support by Telegram or any other form of social media.
Impersonators pretend to be related to Bitvavo and act like they are admins or marketing employees working for Bitvavo. These impersonators create fake posts and generally try to convince unsuspecting users to trust them. In these posts they are making unlikely offers like "send 1 ETH and get 2 ETH back." Unfortunately, lots of people fall for this scam and lose their coins to the scammer's address.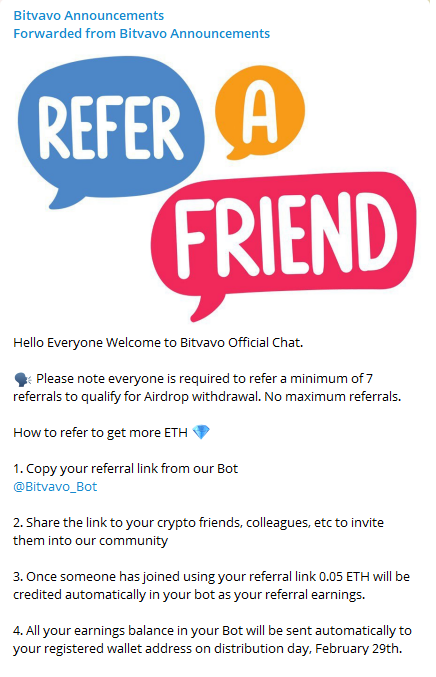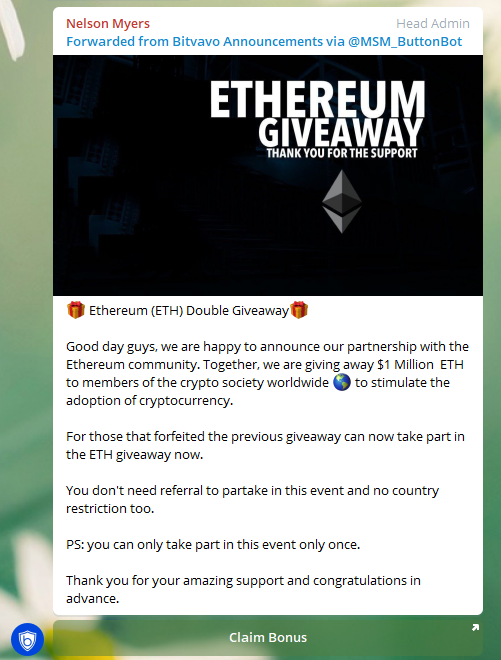 An easy-to-remember rule is: "If it sounds too good to be true, it probably is."
Usually, the offending account will post in the comments section or as a reply underneath a legitimate company's post. It is important to know that Bitvavo is not active on any form of social media - except for Twitter - and will never do a giveaway of this nature. As such, (at least) the following groups or websites are all fake:
Bitvavo Announcements - Telegram
Botvavo Bot - Telegram
Bitvavo Official Chat - Telegram
Be sceptical and always double check
Finally, just be sensible on the web. Make sure to stay up-to-date with the latests scams as scammers are constantly finding new ways to trick users, often going to great lengths to do so. Be cautious with every click and never disclose your sensitive data to anyone online.
If you note something which might be a scam, please let us know by sending an e-mail to support@bitvavo.com and we will do our utmost best to take corresponding actions.
N.B. We recommend you to read the following article, if you happen to have (accidentally) shared your login details as part of the aforementioned. 
49
31
Was this article helpful?
40 out of 49 found this helpful