Calculate crypto taxes for your entire portfolio with Blockpit. Their mission is to provide everyone with a simple tool to do their taxes and have the utmost confidence that they are doing it right.
From your Bitvavo transaction history, you can click [tax report via Blockpit].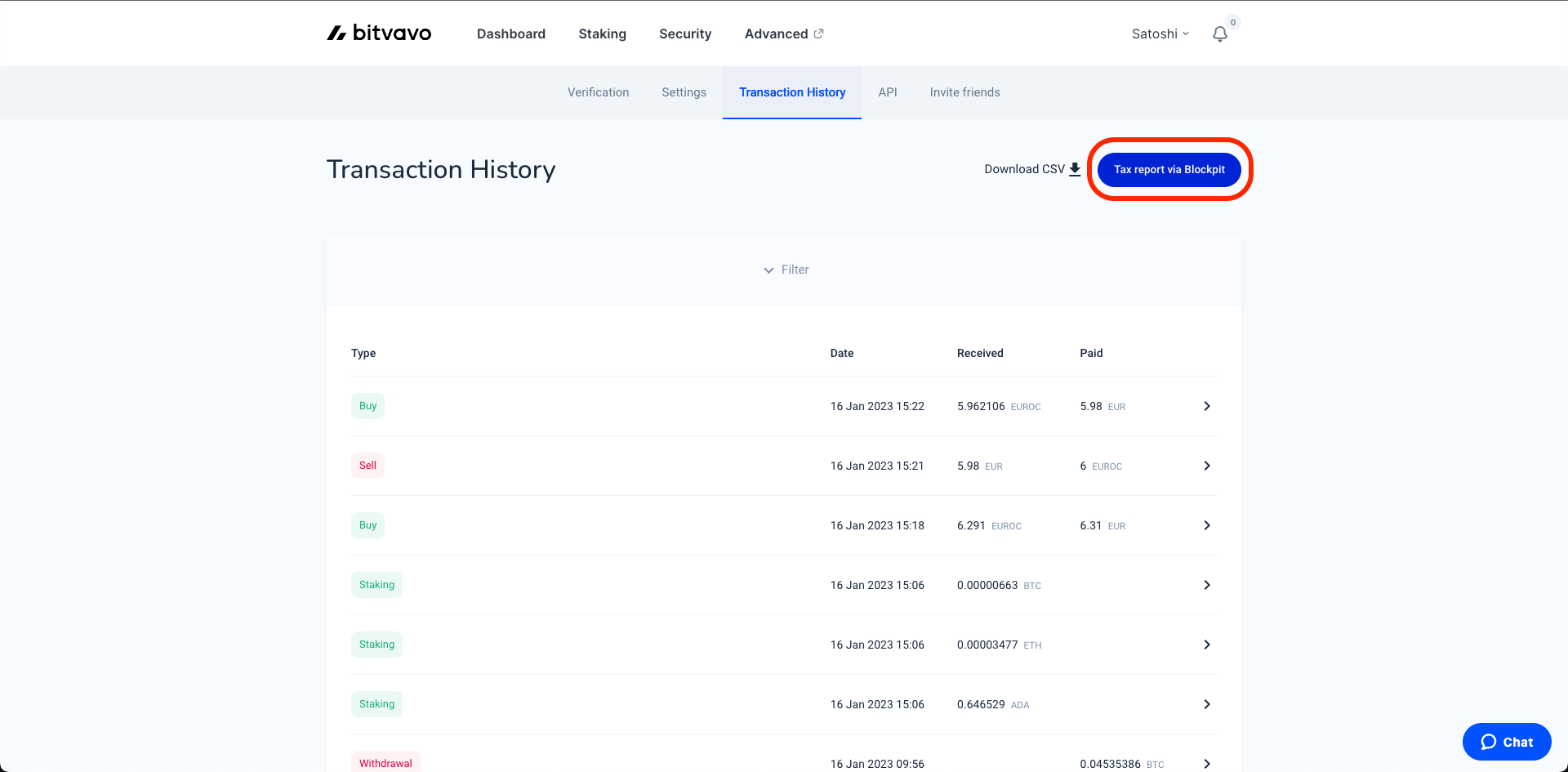 As a Bitvavo customer, you get a discount of 35% on your tax report. These tax reports are tailored to your specific country's tax system and you can track all your digital assets in one dashboard, including your activities on other exchanges and wallets.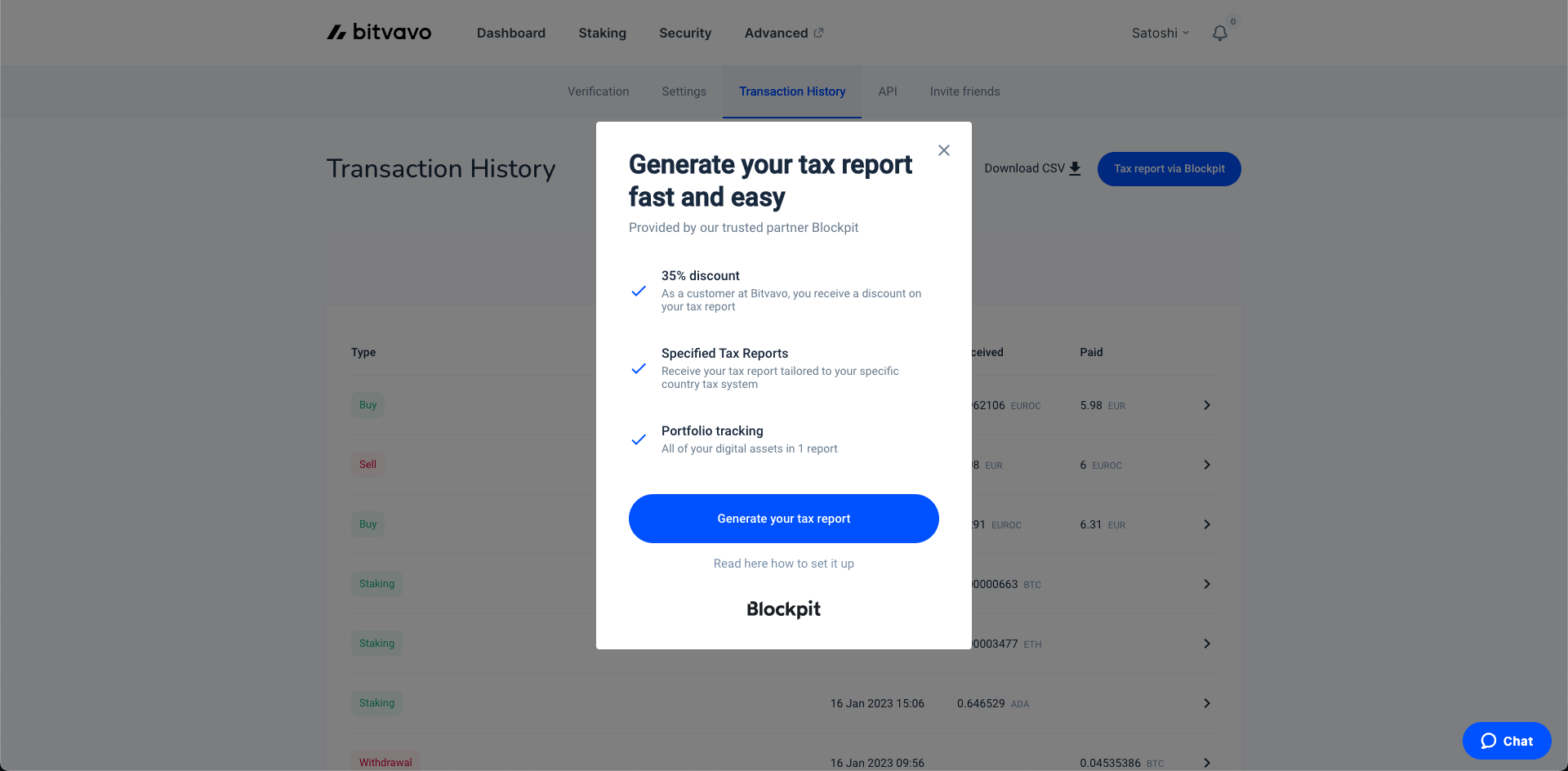 Which Bitvavo transaction data will be imported automatically into Blockpit?
Blockpit categorizes your Bitvavo transaction data by country-specific gains, losses and income types. These will then be calculated according to your national tax law.
Therefore, Blockpit can automatically differentiate between the following Bitvavo products:
Assets:


Fiat (EUR)


Crypto (Coins & Tokens)
Transactions:


Deposits & Withdrawals


Fee Payments


Spot Market Trades


Staking Rewards
Assets:


Fiat (EUR, USD, CHF, etc.)


NFTs (NFT Collections)


Commodities (Gold, Silver, etc.)


Derivatives (Tokenized Stocks, Tokenized Commodities, etc.)
What does a sample Bitvavo tax report look like?
Blockpit creates tax reports with pre-filled tax forms for your local tax authority in PDF format. The tax reports also contain clear explanations in terms of legal interpretation for submission to tax authorities.
The report provides information about all your balances, realized profits and losses and can be used as proof of origin with banks or tax advisors. It contains all relevant transactions of your account, always refers to the selected tax year and shows details such as time stamp, amount, asset, costs and fees of the individual transactions.
You can view some of our country-specific tax reports here: Blockpit sample tax reports
How to link Blockpit with my Bitvavo API keys
Log into your Bitvavo account.

Click in the top-right corner on your profile button and select API.
Click on Request new API key and enter a name for your API key.
Now grant the API key permission for "View information" and keep all other permission disabled as shown in the image below.

Do not use IP whitelisting.

Finish by entering your 2FA Code followed by Confirm.
You will now receive an API key confirmation mail. Click the link in the mail to activate your API key.

Your API key and Secret are now visible in the API List.


Your Secret key is now shown only once and available to copy!

To import your data, you must first create a Depot in the Blockpit Web App.
To do so, click the top menu item on Create New and select Add Depot.
Select Bitvavo from the list of exchanges, and then copy the API key and the Secret into the designated fields. Confirm your entries by clicking Create and finish the setup on Bitavo by clicking Confirm.
How to import your Bitvavo transaction data into Blockpit?
Blockpit uses highly sophisticated API integrations to interpret your Bitvavo transaction data and enable the import of multiple Bitvavo products in a fully automated way. This guide will walk you through the first steps to integrate your Bitvavo Exchange data into the Blockpit web app.
Step 1: Log in to your Blockpit account
Visit the Blockpit website and log into your Blockpit account. If you don't have an account yet, please sign up first.
Step 2: Select "Create New"
Once you have logged in, click on "Create New" followed by "Add Depot" in the navigation.
Step 3: Select "Bitvavo" from the list of exchanges
In the now visible depot creation dialogue, select Bitvavo from the list of exchanges.
Step 4: Enter your BitvavoAPI key
Once you selected Bitvavo, you will be prompted to enter your API key. You can find a detailed guide on how to set up your API key: How to import data via Bitvavo API key?
Step 5: Wait for the data import to finish
Depending on the data load, the automated import can take between several minutes and up to several hours.
137
-25
Was this article helpful?
56 out of 137 found this helpful